I'm delighted to be hosting a post from Ernest at WaterAid, about his experience of visiting a school which has recently had sanitation units installed. A basic expectation for any of us reading this post – but a life changing experience for the pupils, teachers and community of Tsimahavaobe Primary School.
If you can, please help sustain WaterAid's essential work by donating or by sharing this post and mentioning '#buildfutures' when you do so. Thank you, Michelle

Hi. My name is Ernest Randriarimalala.
For those of you that don't know me, I come from Madagascar and I work as a Communications Manager for WaterAid.  This summer, I spent a lot of time out in the field in Morondava and Tsimahavaobe village monitoring the progress of the work carried out with the donations made from the Madagascar Schools Appeal to increase levels of sanitation in my country.
In my latest visit, when the children and teachers were returning to school I was over the moon to see that the new sanitation units were in place at Tsimahavaobe Primary School and they now had running water.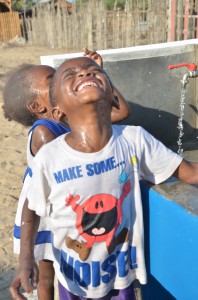 Looking back…
When I first visited the Tsimahavaobe Primary School in November 2012, I was truly touched by what was happening there. Even after just a few visits, it was clear what conditions the children and teachers at the school were used to living in every day. It saddened me greatly to see children and teachers going to school without running water.
The kids had nothing to drink in the heat and nowhere to go to the toilet at the school or in the surrounding areas.  It made me think about my children; the thought of them studying in a school like this was unimaginable. The classrooms were smelly and the corridors were badly kept. It was at that very moment that I realised just how vital it was to be able to have running water and a sanitary environment in school.
I returned to that school again a few months later in August, and had the chance to talk to the parents and the children about what was unfolding. Work was well underway and a new sanitation unit was being built while the children and teachers were on school holidays.
During my most recent trip to Tsimahavaobe I was delighted to see that sanitation and running water has finally been brought to the area through a new block of toilets and fitted taps. Words cannot describe how I felt. Together, with WaterAid and the donations from generous people all over the UK, we'd done something incredible and life-changing for these people and the generations that will follow and will have a great impact on the whole community.  We've changed the lives of the children, the teachers and the parents. All I wanted to do was climb up to the roof and scream, "Yes! We did it!"
Watching smiling children, laughing and celebrating when they see water flowing from the tap for the first time, when they're drinking clean water and using the new toilet block at the school, is simply unforgettable and magical. Some of them just can't believe that it's happened. They hide their happiness by hiding their faces with their hands. There are those that hesitate and have to stop and take a breath, checking if they really can use the facilities before going into the sanitation block.
The impact on the community
Aimee Adeline, Head Teacher of Tsimahavaobe Primary School, has been teaching here since 1989 and was overwhlemed by the transformation. What was previously a dirty environment that meant she had to beg for new staff to come and work at the school – especially women, now has safe water and a sanitation block and has made her prouder than ever to say she works there.
"It's the most exciting development I've seen in my 24 years of teaching and living here. It's so amazing. This is a huge change that is going to lead us as teachers here to be proud of our school and to be more effective in doing our work."
The sanitation block has really increased her motivation to come here and teach and now more than ever, she's really proud of being the head teacher here!
Aimee believes that both pupils and parents alike will be more motivated as a result with  pupils being hydrated at school and not having to wait 5 or 6 hours before drinking safe water when they get home and parents keener than ever to bring their children to a clean and safe learning environment.
'Sitraka enti-matory ka ho valiana raha mahatsiaroa' says Aimee which means, 'We are not able to pay you back, but from now and for the rest of our lives, we're going to sleep with this great gift that you have brought us – and may God bless you!'
When talking to the children, 13 year old Perlette, an aspiring doctor, told me how excited she was that she now has privacy when she needs to go to the toilet and no longer has to miss school when she gets her period because she has somewhere to wash and change.
"We no longer have to poo by the mango tree." – says Perlette
 Meanwhile, Jean Noel who is 12 years old, explained to me that the showers on site mean that he cool down after his 45 minute walk to school, after playing football with his friends or even just to cool down from the heat and not be sweaty in class.
"I can even take water in a plastic bottle and drink it on my way home. It will mean that we will not have to beg for water from our neighbour anymore." say Jean Noel
These are all things that we take for granted here in the UK so it's fantastic to see that these children and the generations after them will grow up in a cleaner, safe and more sanitary environment.
What's next?
This is just one of the many schools that we are helping with your donations to WaterAid. If you'd like to help make a difference to the children, teachers and communities of Madagascar simply click on the link below and you can choose to give now or make a regular donation.
** DONATE NOW TO THE MADAGASCAR SCHOOLS APPEAL**
Thank you so much to everyone for your support,
 I am eternally grateful,
Ernest