When ModernMummy put out the call for guest bloggers to write about their wedding day, I jumped at the chance, as I've been meaning to try and commit some of our memories into writing since we tied the knot. I even have a lovely notebook all ready for our wedding anecdotes to be wittily yet tenderly recorded for us to read together in later life.
The notebook has been waiting for 12 sometimes rocky  happy years now, though I do take it out and look at it fondly every now and then, as I promise myself that yes, this will be the year I get around to it. One day, when life is less chaotic, I will – in the meantime I'm grabbing the excuse to get some memories down in writing before my kids lose all my marbles for me!
So. April Fool's Day 2002 was the date, and the location was Cesky Krumlov, a tiny town in the South Bohemia region, in the Czech Republic. We chose Cesky Krumlov because it was where we had had some of our favourite times as a couple, and because it was such a beautiful location – though there were other places on the shortlist, none of them ticked both of those boxes for both of us. Here's a couple of pictures, courtesy of Krumlov.org and Czechtourism.com – aaaah even I'd forgotten how lovely Krumlov is!
Luckily for us, back in 2002 cheap flights were actually cheap, and that meant that most of our family and friends could make the trip over, and luckier still, we have some amazing Czech friends who were a massive help in getting things organised – you can see one of them here, along with my best friend and bridesmaid, at Prague airport making sure we didn't lose anyone!
We were due to get married on Easter Monday (also April Fool's Day, though let's not dwell on that) – but most people arrived on the Saturday, in time for a party in one of the bars in Krumlov. I am so glad we arranged this as it meant that we had a chance to properly see all our friends and family before the whirlwind of the day itself – though it must be said that there were more than a few sore heads the next day. No matter, everyone spent the day relaxing and enjoying the sunshine that had just that week decided to make an appearance after several weeks of snow…lucky, huh!
We'd chosen to get married in the Hotel Ruže, a traditional Czech hotel right in the centre of the town, and most of the wedding party stayed there too. During the morning, my best friend helped me get ready and did my hair for me, while my sisters buzzed around picking up flowers, rounding up stray guests and generally being great…and then suddenly it was time!
Here's my sisters patiently waiting for me outside the ceremony, followed by the Husband and his best man waiting patiently inside…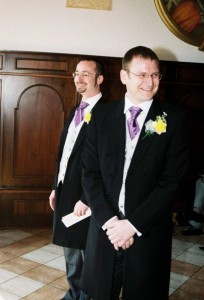 And here I am coming down the stairs with my Dad and my best friend – a bit overwhelmed at this point!
And here we both are! This was taken towards the end of the ceremony, and as you can see from the look of intense concentration, the Husband was trying VERY hard not to drop the ring!
Luckily, the ring went on without any mishaps, which meant we could both heave a huge sigh of relief, and have our first drink as a Married Couple!
There was the obligatory long drawn put photocall at this point – ModernMummy has not given me permission to bore all her readers silly so I shall refrain from posting them here…oh alright, maybe just one!
Needless to say that by the time we went in to sit down for the meal I was absolutely starving, in fact kind of too hungry to eat anything at all. I have to say it did feel kind of weird being on the 'top table' – although I am sure they weren't, it felt like everyone was looking at me. Actually, they probably were at this point, when the waiters played out an old Czech tradition of sharing a giant napkin for our first meal…apparently it's supposed to ensure a long and happy life!
Another Czech wedding day tradition is that at some point during the celebrations, the bride is kidnapped and whisked away to a secret spot, and the groom is obliged to go and seek her out…here I am being spirited away! It was never really clear what would happen to me if the Husband didn't find me, but luckily he did – not before I'd knocked back a double espresso and filled my face with cake in the 'secret' pub I was hidden in!
Once the caffeine and sugar had kicked in, we returned back to the hotel for the bit I had been dreading – the First Dance. We had wanted the Wannadies – You and Me, Always, And For Ever but we are both absolute muppets at dancing and we knew we wouldn't be able to pull that one off, so in the end we went for another favourite of ours, Pulp's  'Something Changed' as our very first dance (ever, and our last, come to think of it).
From here on in, the photos get less clear and more wonky, and I am not at all sure that I would be thanked for posting them here! So here's one to finish off – we're watching some fireworks, and as you can see the pressure of being a bride for a day has taken its toll and I have reverted to my usual stance – pint in one hand!
Thank you for reading – I hope you've enjoyed my wedding story –  and if you'd like to hear more about my life now feel free to drop by at learnermother.co.uk. (you should be warned that twelve years on, there's a lot more ranting and a lot less glamour!)
This post first appeared on the fab ModernMummy.co.uk, and I'm linking up with Magic Moments over at The Oliver's Madhouse too – pop over and read some more cockle-warmers by clicking the badge!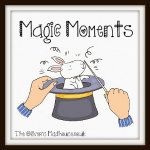 Like this? You might also like these:
Guest Post on ModernMummy! Hello hello, just a very quick message to let you know that I've a guest post over on ModernMummy as part of her month of wedding posts! Come over and have a read! 🙂
On eleven years ago today It was eleven years ago that Easter Monday fell on April Fool's Day. Why do I know this? Because it was also the day that the Boyfriend became the Husband, nearly seven years after we […]
Mopp.Com – Review **Disclosure - I was offered a free clean by Mopp.com for the purposes of this review; I was not asked to say anything specific in return, and this review as always reflects my honest […]