TRIGGER
Before I had kids, I wouldn't have said I was particularly prone to losing my temper. I don't mean the snapping and saying something stupid sort of temper – I'm as guilty of that as the next person after the right combination of alcohol and provocation.
I mean the real red mist temper, where you suddenly find yourself yelling REALLY LOUDLY so that your temples throb and your throat hurts for the rest of the day. This isn't a frequent occurrence,  and it's over as soon as it's begun, but when it happens, I hate myself, the kids look gutted (though often not quite gutted enough to stop doing whatever it was that preceded the yelling, heh) and however lovely the rest of the day turns out to be, I can't escape the feeling that I have failed as a parent yet again.
In an attempt to tackle this, I have been trying to identify the trigger factors which cause the fuse to finally blow, in the hope that being more mindful of these will help me head off the red mist and be one of those amazing calm parents that never lose the plot, ever. Nothing like aiming high!!
So…First off and absolutely the biggest badass trigger, is sleep, or lack of it. Less than seven hours for a few days in a row, and I'm in the danger zone. Chuck in a couple of broken nights for whatever reason, and you've got a superbitch on your hands. Weirdly, back in the days when the kids were babies and six hours broken sleep was the norm, I seemed to lose my temper less – probably some sort of systems shutdown. But now that I'm used to proper sleep again, it turns out that I need it, in a BIG way!
Next up…anxiety. I'm lucky in that I have never suffered the crippling kind of anxiety that means I can't function, but there is always and without fail a higher or lower level of anxiety providing the soundtrack to my life. Before I had kids it was usually based around social situations and a conviction that I was actually too much of a muppet to have any real friends. Now I've got kids I don't have time for worrying about all the reasons people don't like me, because I am far too busy worrying that I'm a crap mother. And so it turns put that the more I worry about being a crap mother, the more likely I am to actually be one. Hmmm.
Then there's lack of exercise. When I'm running even just for half an hour couple of times a week, I do feel more balanced – my temper is more even and I am less anxious. A combination of fresh air, endomorphins and feeling generally healthier, I guess. However there is a trade off with running and sleep…the only time I can run is early morning, and as I get up at 6.30am that would mean I'd need to be up at 5.45am to get even a half hour run in. I've learnt enough to know that in the trigger hierarchy, sleep beats everything else hands down, so the running is something I can't manage as much as I'd like.
And the last real trigger is hearing my voice repeating the same words, over and over again. This alone will never cause me to yell, but combine with another factor and we're on dangerous ground. One real danger point is the walk to and from school – the route is entirely main roads, mostly with very narrow pavements and also there's a particularly nasty corner where any large vehicles turning have their chassis taking up most of the pavement (thanks transport planners at Cardiff Council for that genius bit of road safety forethought when considering the routes to the newly built school). So naturally I try and encourage the kids to walk away from the kerb, especially given the fact that they are liable to break into dance moves or random scuffles over who is walking in front of who. I swear, if I say 'please walk way from the kerb' once on the way home, I have to say is like a Million. Fricking. Times. And by the time we get in from school, my head is buzz buzz buzzing buzzing away…Realistically, I'm not sure what I can do about this one. Kids are always going to need things repeating a million times over, so I guess I need to just deal with it…
So. Perhaps thinking about and writing down my triggers will help me be more aware of them, and perhaps by being more aware I can head off that red mist before it descends. Here's hoping!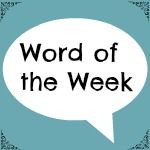 I'm linking up with Word of the Week at The Reading Residence – why not blog about a word that sums up your week and go and link up too?
Like this? You might also like these:
On how our Christmas starts Christmas has officially started! It always starts the same way for me - I have a massive tidy up and sorting session, during which I siphon off unloved toys. In secret of course - I've […]
Silent Sunday 18.05.14 Silent Sunday 18.05.14
On Welsh Medium Education/Ar Addysg Cyfrwng Cymraeg When I make choices for my children, it's usually with the knowledge that such choices are reversible if need be. I chose to enrol my daughter in ballet at 4 as she was forever pirouetting […]