I love living in Canton, and right at this point there is nowhere in Cardiff that I would rather live. I mean, sure, I would love a more spacious house, with a slightly bigger garden and not on the main road, but I would not want to move outside about 100 metre radius from where we are. I've had a few surprised faces when I've said this to people in the past, and it's true that if I try to look with someone else's eyes, I see Canton as a nondescript and traffic choked high street, populated with the usual suspects – charity shops, pawn shops, fast food outlets and pubs, not to mention the ubiquitous supermarkets. It's scruffy, down and heel, and for many folk I suspect it's just somewhere they have to pass through on the way to somewhere else.
But there is so much more to our little patch of Cardiff. For a start, we have an an impressive range of thriving independent shops tucked in between the 'usual suspects'. Two greengrocers plus a fruit and veg stall; three (or possibly four?) butchers; a stationery shop with a sub post office, a launderette and dry cleaner, an electrical retailer, an exotic spider shop, a cobblers, two hardware shops (though one's just about to close due to retirement), several opticians, various newsagents – my favourite one also serves home cooked pakora at the weekend, a wool shop, a couple of bakers. Lots of indie eateries – from the posh and expensive Purple Poppadom to the down to earth and mouth watering Falafel Wales; plus two independent gyms, a busy Community Centre, a library (currently being renovated), an arts centre/cinema, and a community garden which grows herbs and veg – which we get to pick and eat when there's a surplus. All that and two parks, and then Pontcanna Fields just 5 mins away, makes this a pretty ideal place to live, I'd say.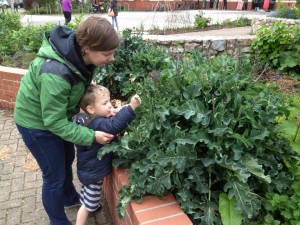 Picking purple sprouting broccoli for Sunday lunch from the Canton Community Garden, outside Chapter Arts Centre
Fruit and veg on display at Laura's, 158 Cowbridge Road East
It's not just about the amenities though – what makes Canton special for me is the fact that it has a proper community feel about it. I haven't come across this anywhere else I have lived, or perhaps I have come to a stage in my life where I notice and value it more. Either way, I like it. I like the fact that this morning, I've exchanged smiles with the regular early morning street cleaner whilst out running; I've waved at my optician and the guy in the carpet shop; I've had a chat with the site manager on the building site across the road from me; caught up with progress on the renovations on our local post office; had a laugh with the lady in the greengrocer about a game her other half bought from OUR shop a couple of weeks ago – and it's not even 10.30am. Last week, without being asked, our postie broke probably about a million Royal Mail rules and dropped a parcel into my workplace for me, because he knew I wouldn't be home to sign for it – and when my eldest wrote him a thank you note (it was his long awaited Skylanders game) – he wrote a note back! Which feels wonderfully old fashioned, and kind, and above all, local.
I don't think you can put a price on this feeling of community, and I am not sure what makes it happen. I guess being in the same place for a while helps – I have lived in Canton for nearly 14 years now. As I mentioned before, there are probably stages in your life when you value the community around you more, and putting down roots and having kids would seem to be one of those stages – so perhaps it is that I am simply more aware of what's around me, and that it could be found anywhere, if you look hard enough. Who knows.
But here's what I do know – which is that I feel immensely lucky to have stumbled upon and settled in this scruffy, down at heel little corner of Cardiff. Canton, you rock.
Like this? You might also like these:
Things to do in Canton when you're dead…..bored **This article first appeared in Pontcanna & Canton Matters** Oh, those words that bring joy to every parent's heart....Mam, I'm Booooorrrreeed! I'm going to pretend, for the […]
On Aspire Fitness Gyms. Ugh. Sport, fitness, exercise, even more ugh. Me and physical activity got off to a bad start - slow, short, weedy and always the last to be picked for any team,  I used to dread […]
On the Cardiff Pound being in the news! Just a very quick post - feels like I've hardly seen my kids this week and want to spend some quality Friday night time with them - but here's some coverage of the Cardiff Pound from the […]