Last week I blogged some photos of our holiday in West Wales for the lovely #countrykids linky run by Fiona at Coombe Mill – but I ran out of time  saved the best for another post!
On the last day of our holiday, we had a lovely surprise when my friend Tanya from Beachlifeetc turned up to spend a week there with her boys, along with another friend and her two children also. I don't see Tan anywhere near enough, despite the fact that we live so close to each other, so it felt like a lovely end to the holiday to be crossing over for a night.
Because we are all EXCELLENT parents, who put the needs of our children above all else, we decided, along with some other friends on the site, to take all the nine kids we had between us to the beach for the evening as a very special treat. This decision was IN NO WAY  influenced by the fact that nearest pub is, in fact, on the beach. And the kids actually thought it was pretty convenient to have somewhere to dump the adults while they had all sorts of adventures. You see? Always putting the little outers darlings first.
We had a great time chatting and catching up
They had loads of fun. Including shark spotting…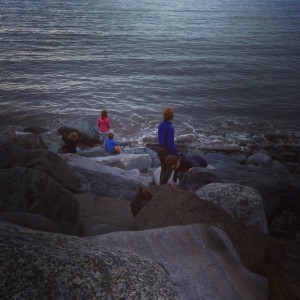 Chilling out…
Making friends with the fishermen (the fishermen might have different words for this)
Realising that fishing seemed too much like hard work when there were literally hundreds of tiny fish (whitebait?) jumping out of the waves and getting stranded on the rocks
Collecting the teeny fishes to throw them back
Or alternatively to sort them by size
And then to serve them to the grownups.
I can't leave you with the dead fishes, so to finish up with, here's my favourite photo of the night, and perhaps of the holiday:
I love this one, it makes me smile every time 🙂
I'm linking up our holiday memories with #countrykids at Coombe Mill – there are loads of lovely outdoor posts on the linky, so why not head over and have a browse!
Like this? You might also like these:
On beach days in Pembrokeshire I've been (finally) sorting the photos from our Summer trip to Stepaside, Pembrokeshire. We've been to the same place for the last four years because it's pretty much perfect - the caravan […]
Our Countrykids Hitlist It hasn't been a great week for getting out and about, thanks to school, work, and wet dark evenings, though we did manage to feed the ducks in the rain... But the week's […]
On a Break! We have just returned from a lovely, lovely few days camping with our kids. I had intended to write a couple of posts while we were away, but as the time went by, I found myself relaxing […]