I've been meaning to write this post for a while – since the beginning of the Summer Holidays actually, when it might have actually been relevant and useful, oops! However looking on the bright side, my tardiness on this does give you a head start on Christmas present ideas, if like me you are contemplating stepping over into the abyss and getting a head start!
So. Games for holidays…as every parent knows, this can be a minefield. Some games promise so much on the box and yet fall flat within minutes; some games are rip-roaringly fun for the kids but toooorrrrttttuous for the adults, some are so complicated that it's time to go home before you've figured out how to play. If you're lucky enough to be travelling abroad, there's your baggage allowance to think of; even if you're staying closer to home, at somewhere like the Parkdean holiday parks, you won't want to be squeezing large unwieldy boxes into the car.
So, after much research, and bearing in mind that ours are aged between 4 and 9, here's a list of the five games for kids that we don't leave home without…
1) Too Many Monkeys – this is a very simple card game, suitable for children who can recognise the numbers from one to six. The best thing about it is that it is so easy to play that even quite young children can explain it to each other, which is ace because you can send them off to play with their new friends on the campsite while you have a nice cup of tea in peace prepare the next fun-yet-educational activity to keep their little minds active. This game is marketed for ages 6+ but actually it's more suitable for ages 3.5 – 6; it's for two to six players, though best with two to four. Comes in a small box but the cards can be taken out and rubber banded to save space.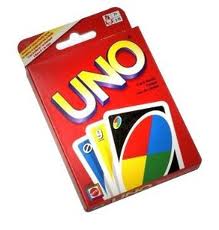 2) Uno – sometimes the old ones really are the best. Players try to get rid of their cards by matching colour or number; wild cards can turn the game on its head; noise and fun guaranteed. What more do you need? Suitable for ages 6 and up, and works best with three or more players. Comes in a playing-card sized box.
3) Story Cubes – a set of nine dice with images on them, that are thrown on the table for players to make a story with. No hard and fast rules – you can get everyone to make one story with all nine images, or each player can take an image to make a sentence in turn, or you have have teams competing for the funniest story using the cubes…the possibilities are endless. A fun and creative antidote to some of the more competitive games; suitable for any age and any number of players. Comes in a box small enough to fit in a coat pocket.
4) Rat a Tat Cat – from the makers of Too Many Monkeys, this is a great game which also sneakily improves memory and maths skills. However that's not why I'm including it here – it makes our top five because it's fun, fun, fun! Suitable for two to six players of age 6 and up with the standard rules, however it works from age 4 with a little help and the cards played face up. Comes in a small box but the cards can be taken out and rubber banded to save space.
5) Forbidden Island – The aim of the game is to salvage treasures from a rapidly sinking island, and get yourself and your fellow explorers safely away in a helicopter before the island is lost to the sea. What I especially love about this game is that all players must work together; either everyone wins, or nobody does – so team work is encouraged, and there's a bit less gloating and making 'Loser' signs from the Husband over-excited kids. Forbidden Island works with two-four players, (though its sister game Forbidden Desert, also co-operative, plays up to five). Recommended for ages 10 and up but because of the co-operative nature of the game, younger children can be included;  and for packing purposes it is larger than the games above, but comes in a sturdy tin so it can't be squashed or broken!
So – that's our top five holiday games – what are yours?
**This post has been created in association with Parkdean Holidays**
Like this? You might also like these:
Small Things #2 Morning morning from Mrs Chirpy Face here! Time for Small Things #2 🙂 Sorry. I know I shouldn't be chirpy so early in the day. It's not right, and it's just plain inconsiderate. But […]
Our countrykids year One of my absolute favourite discoveries from my blogging journey is the countrykids linky run by Fiona at Coombe Mill. The idea is simple - it's an opportunity to share a post about being […]
On freebies The really crap thing about being the wrong side of 40 is that you start to fret about all the stuff you thought you'd do 'one day', and haven't done. Ok. Scrap that. Deep breath, […]