So I've not yet aced all my 'Not my New Years Resolutions'...I KNOW, we're 30 days in, surely they should all be ticked off, in the bag, done and dusted by now…but since this is also the year of not beating myself up, I'm just going to roll with it. *rolls, flails a bit, gives up, starts beating self up anyway*
I have made some progress on some of them though…firstly, and most importantly I am in the middle of making some changes to my work life. I'm not quite sure how things will pan out yet, except for the fact that I'll definitely have  more time at home, and I'll equally definitely be skint. All the more so since we had the news last week that our car is not worth repairing – I'm a bit gutted by that as in the great Michelle Davis Timeline of Life, it was not scheduled for replacement until after the House Project was completed.
The car being borked has also buggered up another non-resolution – namely my Camp Bestival plans. I've been researching various festivals and had set my heart on taking my  elder two to this in August. But unless we become a car free family (this is something I am pondering) then we're going to have to go without this year. Still, I figure there'll be competitions galore to win tickets nearer the time so cross everything for me!
Now – the kids! I haven't been running with my biggest boy yet but the weather has been absolutely minging in these parts, and I figure if I want him to come more than once, I should probably not take him out in the Welsh rain for his first ever run. But I HAVE spent some lovely quality time with my girl, some of which was IMHO completely wasted by watching the AWFUL Moshi Monsters film. But she thought it was the dog's proverbials, and loved having a Mummy day, and we've agreed to do it again soon. As for my youngest, I've been practising saying yes a bit more to the stuff he wants to do when we're at home, rather than always rushing around trying to get on top of the chores, and I have to say not only has it been fun (mostly), but I've also noticed a difference in his behaviour the rest of the time – a lesson for me there I think.
What else…Ah yes, writing – ummm, I wrote my most popular post EVER this month, on the not very parenting focussed topic of Independent Retail, though I'm not sure that being in almost double figures counts as progress for non-resolution purposes.  But I've also started a work blog to challenge me into writing in different ways – it's looking quite new and virginal for the moment but I'm sure it'll be chock full of thrilling insights from the world of Housing in no time….
Next – reading – well, I've started The Happiness Project…which I'm hoping will give some interesting insights into another non-res – yes that one about the working on the relationship shizzle, which obvs I'm not going to blog about too much, being totally un-anon and all.  And finally – the Cardiff Pound – well, it's a big fat nothing to report on that one so far I am afraid….but I might have some exciting news soon so watch this space!
So, all good, right? Just need another couple of days and 2014 is gonna EAT MY SHORTS!*
*Humour me. It's for the best.
I'm linking up with #PoCoLo over at Vevivos – where I am also, ahem, drum roll please, featured on Victoria's Newbie Showcase – thank you Victoria!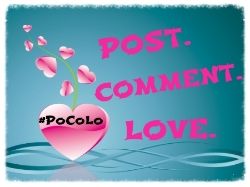 Like this? You might also like these:
Three and a half days So something a bit weird is happening on Friday afternoon. In fact, a lot weird. At around 3pm the Husband and I will be leaving for three and a half days away, without the kids. Three and […]
On being a Dysgwr Cymraeg 'Dysgwr Cymraeg' means Welsh Learner. I've been plodding along, on and off, for about 8 years, ever since the husband decided he'd like the kids to go to Welsh medium school - which means […]
On Lazy Jacks – Review **Disclosure - I received these tops to review free of charge, but Lazy Jacks did not tell me what to write, or ask me to mention anything specific. As always, I write as I find** I'll […]